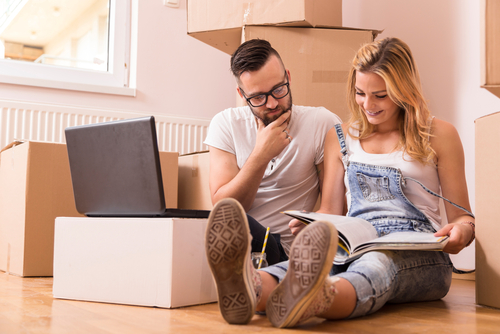 There are a lot of advantages to renting an apartment instead of buying a new home. You save money every month paying rent instead of a mortgage, and you don't have to go into debt on a pricey mortgage just for a place to live. It's also great because it's less permanent; if you're new to a city, or you're considering moving to a new city in a few years, renting an apartment is a really great idea. One of the few downsides to renting a property, however, is that because you're living in someone else's property, you can't make any changes to your living space.

Fabric Wallpaper

A common complaint among renters is that they can't decorate the walls. Some people enjoy the clean look of white walls throughout their apartment, while others crave color. Fabric wallpaper is a great way to solve this problem. There are tons of vendors and shops that create and sell fabric wallpapers in limitless designs, so you can customize your space to really fit you and your personality. The wallpaper comes with a sticky back, so no paste is required. When you're ready to move out, you simply peel the paper off the wall. It leaves no residue and does no damage to the paint.

Command hooks for a gallery wall

Hanging paintings and pictures in your rental property can be a pain, because you can't make holes in the walls with nails or screws. You can still create the gallery wall of your dreams, though, if you use command hooks instead of nails. They stick to the surface of the wall and then velcro to your frames. They come off easily and don't damage your walls.

Backsplash stickers

If you're wanting to update your kitchen or bathroom, backsplash stickers are the best way to elevate your room in a serious way without the consequences of painting or tiling. You can get backsplash stickers at any home improvement store, and the installation is simple. Because they just have an adhesive back, you can easily remove them when your time in your rented apartment is over.

Removable garden boxes

No matter what kind of property you're renting, whether it's an apartment or a single family home, you won't be able to dig up the yard to plant your favorite seasonal flowers. If you're craving some color and greenery for your home, you can hang planters or garden boxes.