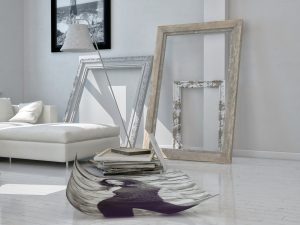 One of the most frustrating things about living in a rental home has got to be not being able to put holes in the walls. The good news, however, is that you can do a lot more with rental walls than you may think; all you need are the right tools and a few tips to keep in mind. Looking to make your rental walls a little more decorative? Here are five essential tips for sprucing up your rental walls.
Use double-sided wall tape.
If you're looking to hang prints or wall art, a good first option to consider is double-sided tape that is specifically made for walls. Fortunately nowadays there are a variety of wall tape thicknesses and sizes to choose from, so that you can hang items ranging from lightweight posters to heavyweight framed wall art.
Try stick-on wall hooks.
You'll even find kits that pair heavy-duty double-sided wall tape with plastic hooks for hanging portraits, heavy mirrors, and more. Hang framed pieces from these hooks just like you would from a nail in the wall. Or, if you can find more attractive stick-on wall hooks, you might use wooden pant hangers to display your artwork.
Try washi tape.
For non-framed prints, you might try using simple washi tape to arrange art on your walls. Washi tape is especially gentle on walls, and it also happens to be decorative in and of itself.
String artwork along a wire.
What about displaying your artwork like laundry on a clothesline using simple wire and special hanging pins? If the pieces are light enough, you can attach the wire to your wall using self-adhesive hooks on either side.
Lean it against the wall.
Before you try to hang something up, consider this: might it look just as good—or even better—simply leaning against your wall instead? If you have an extra large mirror or framed print, for example, you could try setting it on your floor and leaning it against the wall rather than hanging it. Or, if you had originally planned to hang two prints above your dresser, you might find that they look just as great when placed on the surface of your dresser and leaned up against the wall.
Or, display it on a shelf.
If it's a smaller piece, your print or artwork might find its home on a shelf—be it a built-in shelf or a bookcase. You might even bring a ladder into your space to serve as an impromptu bookshelf for displaying artwork.